Bill's Crafts
---
These are guinea fowl feathers mounted on sticks Bill has wrapped with decorative thread.
---
Bill collects feathers during his hikes in the woods around our house, and likes to mount them on sticks to use like bouquets of flowers in a vase, or to stick behind his ear so that he always has something beautiful in peripheral vision when he's working at the computer (this also makes him look pretty cute, I must say). I'm particularly fond of this bluejay "bouquet".
---
Bill used basketry technics to make this pendant, which he decorated with thread after a Brazilian pattern and ornamented with feathers.
---
Bill not only wove this strip of cloth himself (with a design from Ghana), but built the loom to weave it with. I told you he's always interesting, didn't I?
---
This is a cocoon rattle Bill made, about three times this size in real life; it probably belongs more with the instruments, but we use it as a "pretty" and I just felt it should be here.
---
These are woodpecker tail feathers that Bill found after they had been lying in leaf mould for a couple months, ornamented with an irridescent turkey feather. The woodpecker feathers are meant to be very sturdy (the woodpecker uses them to balance on), and feathers if left unmolested take a very long time to decay--so we have this lovely decoration.
---
E-mail Bill about these images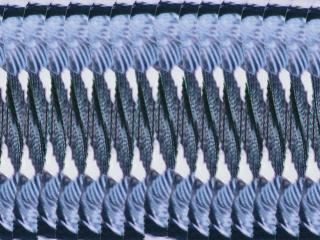 Back to Bill Stuff home
Back to Abbie's Photo Album home
Back to Abbie's Vanity Page home
---
Abbie Anderson
Last updated 9/19/99