Bill's Graphic Play
(he doesn't want me to call it "art")
These graphics were designed using scanned images of feathers, and bits of public-domain nature photos Bill downloaded from the internet. Most of the feathers are ones Bill collected while hiking in the woods around our house on Dolan Hill. The feathers and bird images Bill used come from bluejays, cedar waxwings, a blackthroated blue warbler (a section of a photo of a bird), and wild turkeys. If you don't like snakes, don't look too closely at the last one (which I personally think may be his most impressive): it is composed entirely of snippets from photos of various rat snake sub-species (plus one that has been re-classified into its own species), demonstrating the wide range of color patterns among these snakes.
These images are not scans of physical pieces that Bill assembled. They were all composed graphically in the computer, cutting and pasting an image of a single feather (for instance) or culling small sections from photographs of animals and arranging those pieces to create the desired pattern. They are displayed here in rough chronological order of when they were made--with the complexity and ambitiousness of the images increasing as you go down the page.
---
---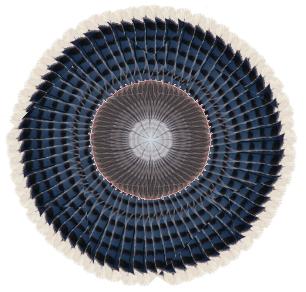 ---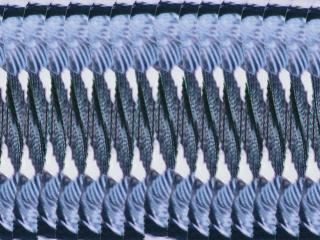 ---
---
Bill is most happy with this graphic, with its fan made from a reduplicated bluejay feather on a background from a wild turkey feather: it turned out just the way he wanted it. He used it to make a sign marking the way to our house on Dolan Hill.
---
I love this one: it is so vibrant, and so inventive. It almost looks like it could be a decoration from Turkey or Morocco--but it's snakes!
---
E-mail Bill about these images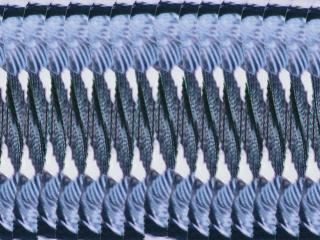 Back to Bill Stuff home
Back to Abbie's Photo Album home
Back to Abbie's Vanity Page home
---
Abbie Anderson
Last updated 8/28/99