Courtin' Days
---
Here we are at Talent Night for the Indiana University Chinese Christian Fellowship (where we met in October 1983, and where he asked me to be his wife in November 1986 during a break in the meeting!), probably December 1986. We are singing a Psalm of the Cameroons, which Bill transcribed for us from a Folkways recording (specifically, Ps. 84: "How lovely is thy dwelling place").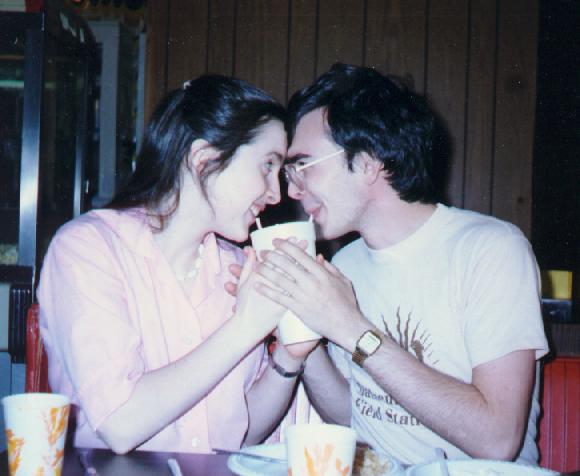 Sharing a milkshake (I never promised I wouldn't make you sick, now, did I?), right before my Senior Recital, April 1987. Photo courtesy of Jane, my best friend since the third grade, who drove to Bloomington during her Spring Break from Washington University in St. Louis in order to attend my recital. My Mom was there, too; she flew out from Seattle not only to hear me play (thanks, Mom!) but to fit the muslin mock-up for my wedding dress on me (wheee!).
Here I am taking a bow at my Senior Recital (photo again courtesy of the most excellent Jane). That's my bassoon in my right hand (it's a long thing).
---
E-mail author about these pictures
Forward to next "Bill and Abbie" page
Back to Abbie's Photo Album home
Back to Abbie's Vanity Page home
---
Abbie Anderson
Last updated 8/25/99