Newlyweds
---
Honeymoon Pictures
Bill was almost a marine biologist instead of a linguist, so our honeymoon camping around Puget Sound and down the Oregon coast was even more blissful than might be expected (although one does sometimes get tired of trying to get a fire started during an occasionally damp Northwestern summer).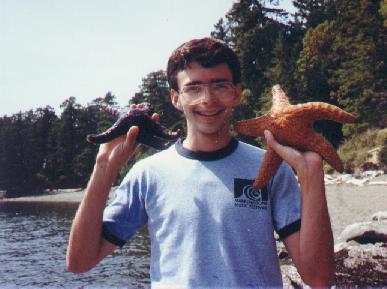 The yellow circle and the arrow are there to highlight the purple seastar on my hat.
---
The First Year
We went through a mildly bohemian phase in the first year of our marriage (mostly cuz we didn't have any money, and were too giddy to care).
Christmas 1987, in Austin, Texas with Bill's parents (that's his multi-talented Dad on the guitar). I would marry Bill all over again just to get his family (even if I weren't so dang fond of 'im); they're terrific people who have been a real blessing to me.
In memoriam: a New Guinea snowman on the porch of our apartment, probably January 1988.
We were very lucky to be able to participate in an extra-curricular Korean drumming ensemble led by an ethnomusicology graduate student named Jong Sung Yang (we were not students yet; I didn't enter Grad School in Folklore 'til 1989, and Bill followed in Linguistics in 1990). That's me standing on the far right; Bill is seated next to me. This picture was taken at a performance our group gave at the Rose-Hulman Technical Institute in Terre Haute, Indiana in February, 1988.
Jong Sung also happens to be an official Living National Treasure of South Korea because of his knowledge of and expertise in traditional music, dance, and medicine (the three go together for shamanic healers).
---
E-mail author about these pictures
Forward to next "Bill and Abbie" page
Back to Abbie's Photo Album home
Back to Abbie's Vanity Page home
---
Abbie Anderson
Last updated 8/25/99